You are currently browsing bartneck's articles.
The national news show "Close Up" reported on ROILA:
Here is a nice usage of the ROILA language with Arduino:
Geek Dad at Wired.com posted an article about our work.

We are proud to announce that our book Learning ROILA has been published and is now available as a paperback from Amazon.com. In addition, you can purchase a Kindle Edition and an ePub Edition. This book has been made possible with the support of NZILBB and HIT Lab NZ.
The RObot Interaction Language (ROILA) is a new spoken language that is optimized for the communication between machines and humans. It is extremely easy to learn for humans and it is simple for machines to recognize. The goal of this book is to support humans learning ROILA.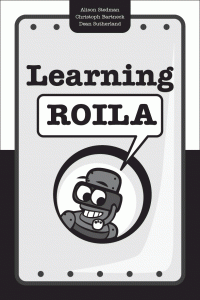 Good news! We received a small research grant from NZILBB to create full course book about ROILA. This book is intended to help students to learn ROILA. Dean Sutherland will help with supervising a student that can create this course book.
It is interesting to observe how the media hype works. We originally gave a hint to one blog and from there on many blogs and news web sites took notice of our project. Within 2-3 days we received a massive number of visits, but as quickly as it started, it also faded. The traditional media is a bit slower and a television interview will be broadcast next Thursday.
We will be at the Lego Idea Conference on April 13th, in Billund (DK). We will have a ROILA demonstration setup with us. Please contact Omar if you want to connect or receive an individual demonstration.
Tags: demonstration, Event, lego
We are pleased to announce that the website for the Robot Interaction Language (ROILA) has been officially opened. We offer a platform for the ROILA community which includes guides, forums and online courses. We hope that you find this web site useful.
Tags: News